tuffmuff
THE 1st Lady*






Post #

: 3462


Age

: 36


Location

: H-town, Texas


Status

: keeping my peace


Subject: Lara Croft and the Guardian of Light Fri Mar 05, 2010 7:21 pm

---

http://www.psxextreme.com/ps3-news/6701.html

There's not a ton of information on this one yet but its going to be released for PSN and they dropped Tomb Raider out of the name. Interesting.

_________________
TonyAlmighty
Consigliere*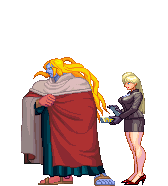 Post #

: 1744


Age

: 38


Location

: Westcheddar, NY


Status

: "Amateurs talk strategy. PROFESSIONALS talk logistics."


Subject: Re: Lara Croft and the Guardian of Light Fri Mar 05, 2010 8:46 pm

---

I hope they do it right, there hasn't been a great TR game in a LONG time. They better go hard, because there's a new chick on the block, and she's a serious problem!
tuffmuff
THE 1st Lady*






Post #

: 3462


Age

: 36


Location

: H-town, Texas


Status

: keeping my peace


Subject: Re: Lara Croft and the Guardian of Light Fri Mar 05, 2010 8:50 pm

---

They'll probably screw it up. Lara Croft has been pure bullshit since the second Tomb Raider... and the movies... were just terrible.

_________________
Sponsored content

Subject: Re: Lara Croft and the Guardian of Light

---